Beaujolais Villages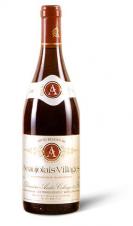 THE BEAUJOLAIS VILLAGES APPELLATION AREA
Around 40 villages in Northern Beaujolais can use this name.
This vineyard was given its AOC classification by decree on 12th September 1937
BEAUJOLAIS VILLAGES is the exemplification of freshness, charm and vitality in a wine. Its ruby robe, shot through with purple-blue, exudes fresh grape aromas. Fruity, tender and supple, it is perfectly balanced and can be enjoyed at any time of day or night. It should be served cool, but not too cool, at 13 to 14°C (55 to 57°F) because the cold masks all the pleasure it can give.
Enjoy it on its own or with terrines, cold meats, cooked sausage with steamed potatoes, a hot-pot, a rabbit fricassee, stuffed goose and cheese for example.
DOMAINE COLONGE ANDRE ET FILS
The estate is on the commune of Lancié, which is the only Beaujolais Villages commune to be completely surrounded by Beaujolais Crus. Its closest neighbours are AOC Fleurie, Morgon, Chiroubles and Moulins à Vent.
Tasting notes :
- A lovely deep crimson robe with purple-blue tints.
- The fresh and mouth-watering nose is bursting with crunchy red fruit and sweet spice, backed up by a touch of pear drop and strawberry.
- sticking to the freshness and youth shown on the nose, the attack is an explosion of crunchy ripe red fruit, backed up by lovely silky tannins. The delightfully round mouthfeel doesn't lack structure, fanning out over the palate to finish on rich strawberry jam notes.
- A fresh, lip-smacking wine to savour; the Gamay grape in all its fruity glory...